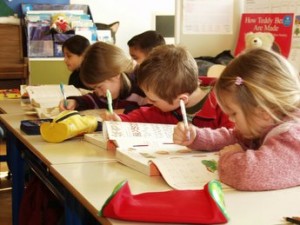 [This post is part of a series on Substitute Survival]
You know where you are. You have a general idea how the day's schedule is to progress. You've just picked up your children from their designated morning wrangling area. Now what?
Of course you already know to introduce yourself and let the students know that you'll be filling in for their regular teacher while they attend to whatever they are attending to. But beyond that, what do you need to establish with the students before beginning your day?
One thing that you need to know (and it's an almost universal truth): students will behave differently for a substitute teacher than they will for their regular teacher, especially if you are a new substitute teacher. This is not to say that every student will be climbing up the walls and screaming profanity, but there will invariably be some subtleties to their daily routines which will be ignored. Students may chit chat during what would normally be silent work time. Students may line up differently than they normally do. If a routine is very important, the teacher will note that in the materials they have left for you. Try not to get too lost in the minutiae of their daily routine. However…
To curtail potential rule breaking and to assert your authority (albeit temporary) in the classroom, it does not hurt to let the students know that you intend to see all work left for them completed and that any behavior that distracts from this goal will be met with consequences. For younger grades (K-3), loss of playtime or other privileges may be the most appropriate punishment. For middle grades (4-6), writing sentences may be appropriate. For upper grades and secondary (7-12), an office referral or after-school detention may be the best choice. Neighboring teachers will be able to give you the best insight into which punishments are most commonly used or which ones tend to be most effective.
I prefer to avoid punishments if at all possible and instead offer a small reward to encourage proper behavior. This can be something small like a piece of candy or a little extra time at recess. I only resort to punishments when recognition of proper behavior and incentives fail to work.
The most important thing to remember is to always maintain your composure, even if the students are testing your limits. Do your best to keep the class on task and on schedule, and do not hesitate to call on neighboring teachers to assist in any situation you find challenging.
[This post is part of a series on Substitute Survival]